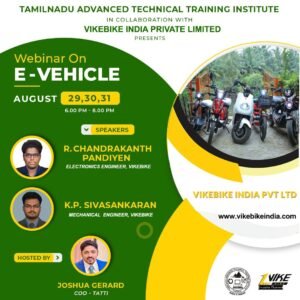 Hey folks!!
Want to learn and upskill more about E-Vehicle?
Here, we have our new Virtual Webinar on E-VEHICLE is going to be conducted by Tamilnadu Advanced Technical Training Institute (TATTI) in collaboration with Vikebike.
We have global speakers to share valuable information and deeper insights about various career and business opportunities in this E-Vehicle Industry.
Details:
Date: 31st August 2020
Duration: 1 days
Time: 6 PM to 8 PM
We hope you will gain more information from this webinar.
Don't miss it!
E-Certificates will be provided to all active participants
Happy Learning with TATTI:)
Register now by clicking the link below https://www.tatti.in/events/e-vehicle-mauto/